PT. High Volt Technology (HVT) is specialized, innovative and independent company in installation, testing, commissioning, monitoring, diagnosis, assessment and maintenance of High Voltage Equipments.
HVT emerged as worldwide service provider for installation, testing, commissioning and on site HV test with partial discharge measurement for Gas Insulated Switchgear (GIS), Air Insulated Switchgear (AIS) and Gas Circuit Breaker (GCB) up to 500 kV. Our worldwide projects already spread in five continentals. Recently we executed some projects in Middle East, Europe, Asia and Indonesia. We have high qualified engineers with long experiences in the High Volt Equipments to execute all activities around the world. HVT has maintained strong presence in Indonesia by providing Technical Know-How, Technical Support and Reliable Service in Power Utilities and Private Sector. We have participated in many large scale projects in Indonesia.
Since 2004, our company has been preference service provider to worldwide GIS manufacture. Our strong background and extensive experiences during working with switchgear manufacture in France, Switzerland, Germany, USA and Japan gained knowledge, wisdom and understanding in High Voltage Equipments.
Our extensive activity and close relationship within the world class expertise throughout CIGRE and other institution has updating our knowledge to the novel technology in Electric Power System. Through this combination enabling us to develop our own service engineers to high level of skill and expertise through training in our principle premises and practical experiences on site to distinguish us with other service provider.
We have received some customer satisfaction from different company and factory such as :
Zero accident service from Alstom GridSwitzerland from 2004.

The first company using Mobile HV TesSystem for onsite testing Power Transformer outside Europe.
We keep continuing our high quality inproviding service, safety and health andenvironmental friendly by certified ISO 9001, 14001 and 18001 through TUV NORD in 2009. Latest development in 2011 is our engineer's training and certification for SF6 Gas Handling in Accordance with commission regulation (EC) NO 305/2008.
Our objective to become reliable partner in Installation, Testing, Diagnosis, Assessment and Maintenance of Electric Power System Equipments.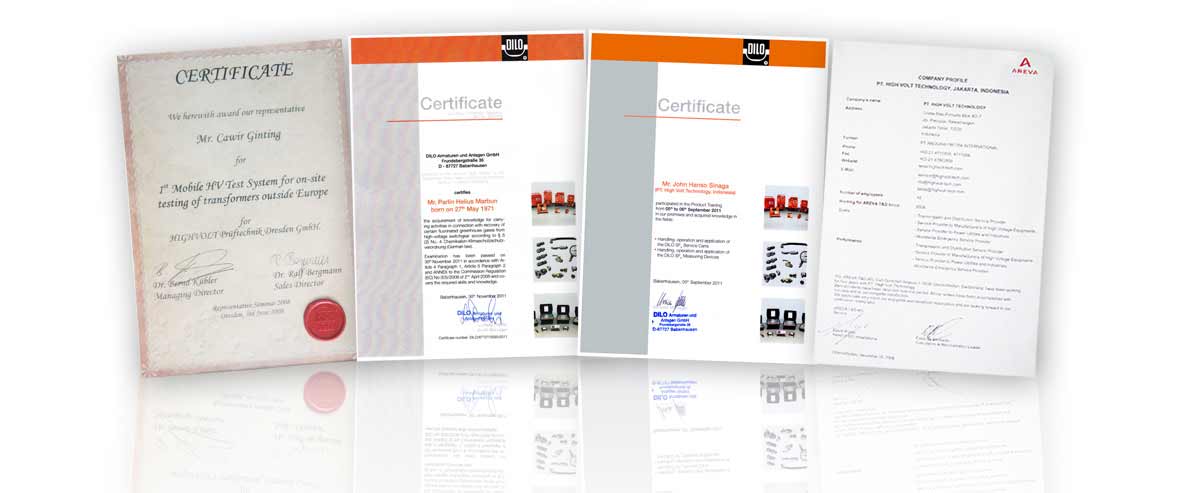 Reference of Contracting Business:
Bogor Baru 150 kV AIS

Ciawi 150 kV AIS

Cibadak 150 kV AIS

Lembur Situ 150kV AIS

Cianjur 150 kV AIS

Paiton 500 kV GIS

Plumpang 150 kV GIB

Tanjung Priok 150 kV GIB

Tanjung Priok 150 kV GIS

Plumpang 150 kV GIS

Gandaria 150 kV GIS

Martabe Batangtoru 150 kV AIS

New Bintaro 150 kV GIS

Cibabat 150 KV GIS

AlamSutera 150 kV GIS

Balikpapan 150 kV AIS

Pesanggaran 150 kV GIS

Bandung Utara Extention 150 kV

Sunyaragi Extention 150 kV AIS

Haurgelis Extention 150 kV AIS

Lagadar Extention 150 kV AIS

Ujung Berung

Extention

150 kV AIS

Pinayungan Extention 150 kV AIS

Kosambi Baru Extention 150 kV AIS

Cianjur Extention 150 kV AIS

Jababeka Extention 150 kV AIS

High Voltage Testing using Mobile Transformer Test System WRV 3/700 kV AC for GIS and Transformer in several projects

Induced Test using Mobile Transformer Test System WV 400-1000/75 for Power Transformer 500 MVA in several projects
Bay Trafo 150/20 Package 10 (GI Cianjur, GI KosambiBaru, GI Lagadar, GI Sunyaragi, GI Ujung Berung, GI Jababeka, GI Bandung Utara, GI Haurgeulis, GI Pinayungan)




150 kV AIS PT Agincourt – Martabe (Mining Substation 150kV & Plantation Substation 150 kV), BatangBoru, Sumatra Utara.

150 kV GIS Bintaro II (Package 1 : 150 kV GIS and underground cable for Jakarta and West Java)

Modernisasi System Kontrol (Unit 4 & Unit 6, DIGIPID, dan HMI) Divisi PLTA PerumJasaTirta II – Jatiluhur

Automation Bay Trafo 150/20 kV GIS Salira Indah (Bay Trafo ke-2 KTT SulfindoAdiusaha)

Glugur 150 kV GIS

Cibabat 150 kV GIS

Alam Sutera 150 kV GIS

Pengadaan dan Pemasangan Digital Fault Recorder (DFR) di lingkungan PT PLN (Persero) P3B Jawa Bali

PLTU Kalimantan Timur

Pesanggaran 150 kV GIS

Duren Tiga 150 kV GIS Extension

Mobile High Voltage Testing for Transformer up to 500 kV / 500 MVA onsite – PT PLN (Persero) P3B Sumatera

Gunung Sahari 150 kV GIS

Braga 150 kV GIS

Buduran 150 kV GIS

Receiving Station 150 kV PT Asahimas Chemical, Cilegon

SF6 Handling for Hybrid Switchgear 150 kV PT Suzuki Indomobil Motor, Cikarangtent
Do you need help to know more about what we offer? Get in touch with our experts.