PT. High Volt Technology (HVT) is specialized, innovative and independent company in installation, testing, commissioning, monitoring, diagnosis, assessment and maintenance of High Voltage Equipments.
HVT emerged as worldwide service provider for installation, testing, commissioning and on site HV test with partial discharge measurement for Gas Insulated Switchgear (GIS), Air Insulated Switchgear (AIS) and Gas Circuit Breaker (GCB) up to 500 kV. Our worldwide projects already spread in five continentals. Recently we executed some projects in Middle East, Europe, Asia and Indonesia. We have high qualified engineers with long experiences in the High Volt Equipments to execute all activities around the world. HVT has maintained strong presence in Indonesia by providing Technical Know-How, Technical Support and Reliable Service in Power Utilities and Private Sector. We have participated in many large scale projects in Indonesia.
Since 2004, our company has been preference service provider to worldwide GIS manufacture. Our strong background and extensive experiences during working with switchgear manufacture in France, Switzerland, Germany, USA and Japan gained knowledge, wisdom and understanding in High Voltage Equipments.
Our extensive activity and close relationship within the world class expertise throughout CIGRE and other institution has updating our knowledge to the novel technology in Electric Power System. Through this combination enabling us to develop our own service engineers to high level of skill and expertise through training in our principle premises and practical experiences on site to distinguish us with other service provider.
We have received some customer satisfaction from different company and factory such as :
Zero accident service from Alstom GridSwitzerland from 2004.

The first company using Mobile HV TesSystem for onsite testing Power Transformer outside Europe.
We keep continuing our high quality inproviding service, safety and health andenvironmental friendly by certified ISO 9001, 14001 and 18001 through TUV NORD in 2009. Latest development in 2011 is our engineer's training and certification for SF6 Gas Handling in Accordance with commission regulation (EC) NO 305/2008.
Our objective to become reliable partner in Installation, Testing, Diagnosis, Assessment and Maintenance of Electric Power System Equipments.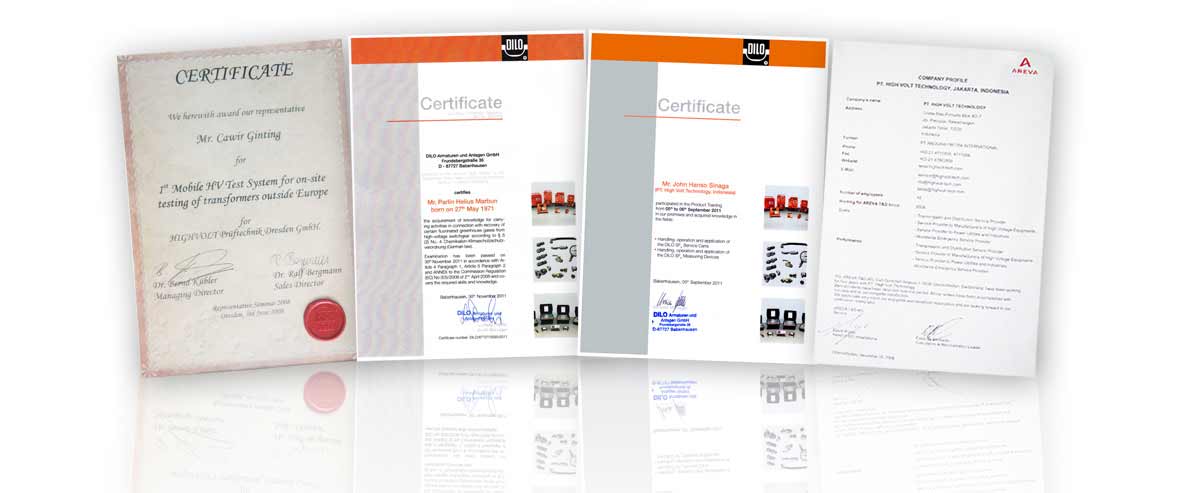 Do you need help to know more about what we offer? Get in touch with our experts.